Mood Active's Burpee Challenge is here – get down and do some #BurpeesForMoodActive
It's well known that exercise is important for your mental health, so what better way to raise funds for mental health than a burpee challenge!
For some healthy competition you will be racing against an elite team including a Tokyo Olympian!  We've all struggled to exercise under the constraints of the lockdown.  Now it is time to lift your game to the humble but dreaded burpee against some of the fittest athletes in the land.
How many burpees can you do in 1 hour?
EVENT DETAILS:
Who: anyone looking for a tough physical challenge! Individual entries and teams of up to 4 people
What: maximum amount of Burpees in 60 minutes
When: 28th October 2021 at 11.30am for 12:00pm start
Why: to increase awareness for improved mental health with regular exercise, and raise funds to enable Mood Active to continue to provide free and discounted exercise programs to people experiencing mental illness
How: this event is 100% digital and can be completed at the office, your home or your local park. All you need is a laptop and zoom. The specific rules will be announced soon
Cost: $0. There is no fee to enter. We just hope that you can raise funds to participate in the event and share your fundraising page and the event on your social media
Mood Active is a registered not-for-profit charity and all donations over $2 are tax deductible. We are aiming to raise $40,000, to continue our services and to promote exercise for improved mental health.
So how will your funds be used?
Since 2013, Mood Active has been providing exercise services to support people with mental illness. Participants in our services are either clinically referred to us via GPs and psychologists, or they are people whom experience high amounts of stress and anxiousness in their life. We provide individual and group services providing wellness oriented exercise, and facilitate workshops that educate on the benefits of exercise for your physical and mental wellbeing.
The funds raised in this event will enable Mood Active to continue to provide free and discounted services to vulnerable people experiencing mental illness. We work with participants with the long term goal to empower them to re-engage within local community sport and exercise platforms.
So how did the event start?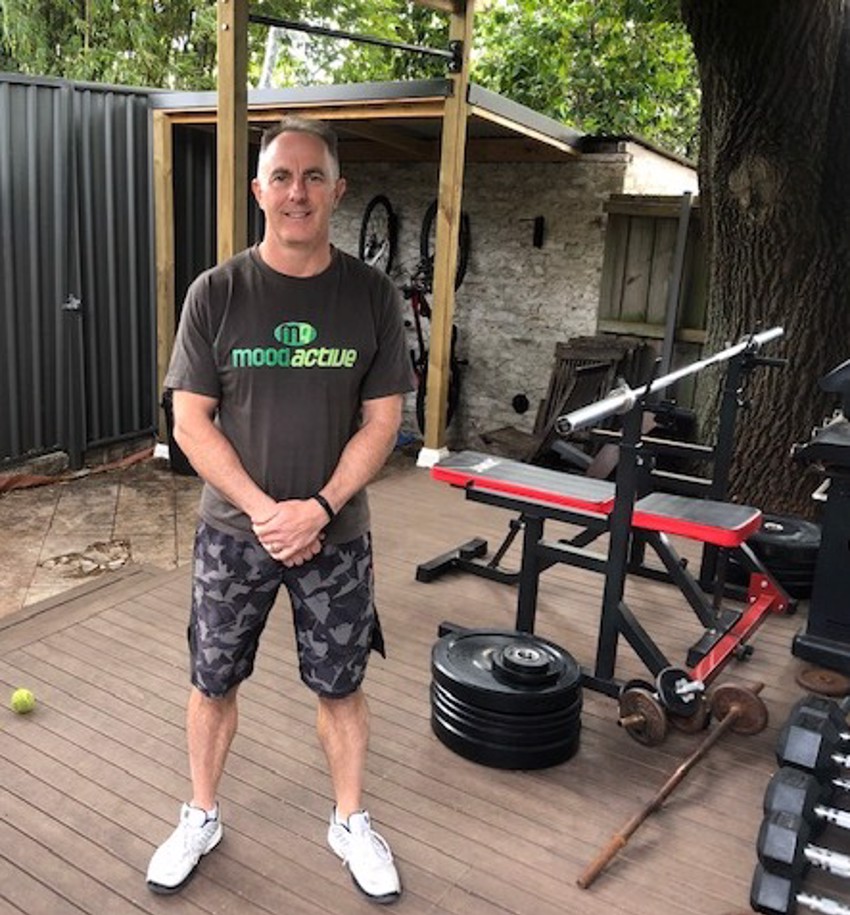 Meet Matthew Grove, founder of the Burpee Challenge:
"I'm a middle aged advocate of movement and exercise for better health, both physical and mental. I follow 'a move it or lose it' approach to life. During lockdown the burpee stood up as the cardio exercise of choice with limited need for room and equipment, your heart rate was only limited by the athlete's ambition.
Having previously been diagnosed with depression after a sports injury prevented activity for 9 months, I immediately got on an exercise bike, repaired my body and felt instantly better.
I then found Crossfit in 2013 and have not looked back, regularly running half marathons, competing at the gym, rediscovering tennis and learning to cope with life through the lessons taught by hard exercise.
My first burpee challenge was to complete 1000 burpees for time on NYE 2020. 2 hours 6 mins and nearly $6000 later, the marriage between burpees and Mood Active was sealed."
This year, we want to take Matt's Burpee Challenge to a whole new level.  So, what are you waiting for?  Get down and do some #BurpeesForMoodActive!
0
Days
0
Hours
0
Minutes
0
Seconds